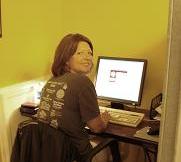 We provide accurate data entry from any format -- hand written originals, typed copy, online sources or scanned images. We can also integrate document scanning and business process outsourcing into your project if warranted. We key from image or hard copy, online or in-house. Among the many types of data entry services we perform are:
Data entry with double key verification, where keying is literally done a second time by a different clerk, is offered for extremely critical data. Your data is then scanned for accuracy by a customized editor program, and our personnel manually review any questionable entries that arise, if needed, the process is repeated. The data is provided to you in the format you specify.
The security of all information your company entrusts to us is assured. We perform background checks on all personnel upon hiring. In today's uncertain age of terror networks and identify theft, we do not open your data to overseas companies. Instead, our team of well-trained data entry clerks, MS Access database programmers, mail/document handling clerks and administrative personnel work skillfully on your behalf under our direct oversight.

DataPlus maintains equipment redundancy and on and off-site secure backup of all data. We can host your data on our secure redundant servers if your project lends itself. We also utilize the services of a certified document destruction company to dispose of client source documents if required.